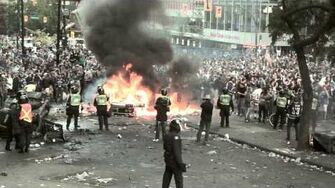 I thought this might interest people--a post about all the news on Michael Buckley's newest book, Undertow. It's the first book in a planned trilogy. 
Description:
First, we feared them. Then we fought them. Now they might be our only hope.
Sixteen-year-old Lyric Walker's life is forever changed when she witnesses the arrival of 30,000 Alpha, a five-nation race of ocean-dwelling warriors, on her beach in Coney Island. The world's initial wonder and awe over the Alpha quickly turns ugly and paranoid and violent, and Lyric's small town transforms into a military zone with humans on one side and Alpha on the other. When Lyric is recruited to help the crown prince, a boy named Fathom, assimilate, she begins to fall for him. But their love is a dangerous one, and there are forces on both sides working to keep them apart. Only, what if the Alpha are not actually the enemy? What if they are in fact humanity's best chance for survival? Because the real enemy is coming. And it's more terrifying than anything the world has ever seen.
Action, suspense, and romance whirlpool dangerously in this cinematic saga!
The Amazon listing: http://www.amazon.com/Undertow-Michael-Buckley/dp/0544348257
The official book website: http://hmhbooks.com/undertow/ (How come it looks like 100 times better than the Sisters Grimm site? That's no fair!)
The cover art: http://blot.com/post/110004372258/undertow and Michael Buckley's post about it here: http://michaelbuckleywrites.com/2015/01/29/undertow-gets-a-makeover/ and here: http://michaelbuckleywrites.com/2014/08/13/biography-of-a-book-cover/
There's an excerpt on the first four chapters here: http://www.scribd.com/doc/255663013/Undertow-Excerpt
And a cool-looking book trailer! Which will apparently play before Avengers: Age of Ultron in some theaters! Which is amazing!
I'm personally really excited to see how Michael Buckley does writing YA fiction. What do you guys think?
UPDATE 3/10: Michael Buckley's going on tour with Undertow! Are any of the signings near you? http://michaelbuckleywrites.com/2015/03/10/the-undertow-tour-is-coming-together/
UPDATE 4/15: The sequel to Undertow will be called Raging Sea, and it should come out in February 2016. https://twitter.com/michaelwbuckley/status/587431884382146560
UPDATE 5/5: Undertow has been released! The books is now officially out! Read it and tell us what you think!
Community content is available under
CC-BY-SA
unless otherwise noted.