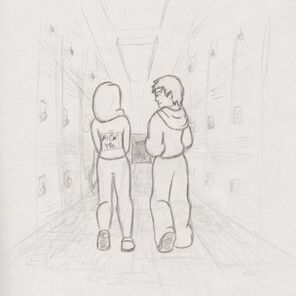 The Sisters Grimm
. It may or may not be my favorite series despite being aimed at kids half my age. I may or may not have actually
tracked down the location
of Ferryport Landing. I may or may not have taught myself how to write fiction by writing SG fanfic. It may or may not be my longest-lasting obsession ever...
But hey, if you want, you can check out the Sisters Grimm fanart club I admin! Or read some of my fanfiction from when I still had time to write it! Or look at some of my fanart--nah, I think I'll just stick all of it straight onto this very page, so you can't avoid it. 
(Check out my Wattpad account and my NaNoWriMo account as well.)
My Current Projects on this Wiki:
uploading all book chapter headers one by one (finished through Magic and Other Misdemeanors, staring on Tales From the Hood)
uploading fanart to add to image galleries of under-illustrated characters
reporting on all Sisters Grimm- and Michael Buckley-related news in my blog posts
shamelessly making minor edits every day in order to accumulate glorious badges
My Sisters Grimm Fanart
Like I said, I'm working on a process of uploading fanart to this wiki to augment the existing galleries. This is especially necessary for characters like Briar Rose or Moth, who are both very important characters but have very little official art. All the fanart we upload is used with permission and is fully credited. I've contributed a lot of my own fanart to this undertaking, because I have a lot of it. Here's the stuff I've uploaded to this wiki. 
Community content is available under
CC-BY-SA
unless otherwise noted.